QUALITY CUTTING TOOLS HAS BEEN IN BUSINESS FOR OVER 30 YEARS. WE KNOW TOOLS.
Our friendly, knowledgeable staff can help you find the right tool for the job, or the right machine for your shop. With over 25 years experience selling everything from manual lathes and mills to 5-axis CNC machines, Quality Cutting Tools has the in-house expertise to guide you toward the right purchase for you or your business.
Our Saskatoon-based service technicians have over 25 years experience troubleshooting and repairing both electrical and mechanical issues with tools, machines, and automation lines. We also offer ongoing preventative maintenance packages to ensure potential issues are caught before they become business-critical shutdowns.
Need service right now? Fill out our service request form.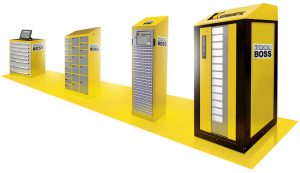 Quality Cutting Tools also offers self-serve vending machines in both Saskatchewan and Alberta. These machines allow employees to access inventory items in a secure, traceable, and auto-replenishing manner, while cutting down on theft, delays and purchase approvals.
The ToolBoss vending machines allow shops of all sizes to load products ranging from inserts and bits, to welding gloves, specialized tools, and more. They come in multiple configurations, including drawers, lockers, and carousels. Learn more about our vending solutions here.
Looking to purchase from the United States? We maintain a North Dakota location in Grand Forks that can assist you with all your tooling and machine needs.
For more information on working with Quality Cutting Tools click here.